The visual product and price list system
DS30 is designed for businesses and companies that have specific needs to effectively produce brochures, manuals or price lists in various languages ​​and currencies in a form and of a quality that harmonises exactly with the company 's visual identity and brand.
DS30 is the visual PIM system (Product Information Management) of the future. Unlike previous product and price list systems, which tend to be within the financial systems, the DS30 is a visual tool, where what you see, is what you get. Therefore, DS30 is much easier, faster and more inspiring to work with.

DS30 can handle several product variants and complex product configurations – and has very high data security.

The system can receive and send data to a variety of common business systems. All procedures and routines are optimised with the integrated project module.

Translations, corrections, project progress and cost calculations take place under controlled and quality assured processes. DS30 ensures consistency to descriptions and definitions of products and materials across all languages.

DS30 ensures efficient and quick contact with all sorts of markets – regardless of languages ​​and currencies.
---

Especially for Graphic Designers
Efficient, smooth and flawless publishing combined with a creative design, is just one of DS30's many strengths.
Dodgy versioning processes, which usually involves copying the data from the example spreadsheet as well as time wasting associated with formatting of text and lists, can now be completely avoided.

Graphic designers, for example, working in Adobe InDesign*, will quickly take advantage of the simple systematisation and interaction with DS30. Data from DS30 will be linked or embedded directly into documents, and versioning is easily done with Adobe InDesign's inbuilt tools. All formatting is done fully automatically and quickly regarding the integration of data. The simple work process makes the production and publication of printed or digital publications into various different languages, currency variants (Inc. VAT and/or other national taxes) much less time consuming, and the risk of error is eliminated through the system's security.

DS30 supports all keyboards throughout the data integration – even complex languages ​​and alphabets, such as Japanese.

Adobe InDesign is a registered trademark
---

Especially for Project Managers
Quick and easy production of new price lists, data sheets or product brochures with individual language, VAT and/or exchange variations in DS30.
Manage teams, individual users and associated permissions with login and password. Get a continuous overview of the project progress. As project manager, you can for example assign a translator access only to view and translate one language variant – without having any possibilities to accidentally change the prices. Etc.

DS30 provides a quick and simple overview of how, and in which languages, translations are missing, but it also shows the text changes, the need for new text, plus an overview of which price lists have been calculated.

DS30 also has a search function containing index contextualised result displays as well as export of price lists – or product brochure pages, for other platforms such as Microsoft Excel, Adobe PDF, or XML.
---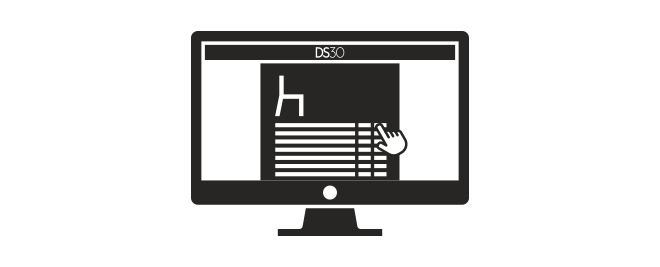 Especially for Price Administrators
DS30 simple and clearly calculate all prices, VAT rates and currencies.
All changes are calculated on the basis of existing or imported prices. DS30 supports manual adjustment of for example market individual awards. Rounding rules can be set individually for each currency.